Posted on:

Friday, May 29, 2015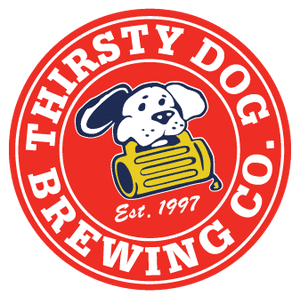 You know a brewery is doing something right when they have an entire section of their website dedicated to awards. When you browse through the huge list of decorated brews, it would be easy to think that maybe they're doing everything right.
Thirsty Dog Brewing Company in Akron, Ohio has been doing it since 1997. 10 years ago, John Najeway of Thirsty Dog Brewing was one of the first brewers to see potential in a new celebration of Ohio craft beer that was set to take place in Athens, Ohio. That support led other brewers to get in on the fun and help make Ohio Brew Week one of the best craft-beer centered events.
In that time, Thirsty Dog has constantly impressed beer lovers everywhere, from casual sippers in our home state to beer experts at national competitions. In 2014, Thirsty Dog was awarded USA Brewery of the Year at the New York International Beer Competition. Their Bernese Barley Wine Ale was awarded Double Gold, with Wulver (Wee Heavy Bourbon Barrel Aged) and Citra Dog American IPA netting Bronze ratings. Over the years, Old Leghumper Robust Porter, Labrador Lager, Siberian Night Imperial Stout (and its bourbon barrel aged version), Hoppus Maximus (and tons of others) have taken home multiple awards from from NYIBC and The Great American Beer Festival.
For those of you not familiar with GABF, it is the American brewing industry's top competition and public tasting event, with over 3,500 different beers from 700 breweries. Apparently there is no other place on earth where craft beer lovers can find more options on tap.
At Brew Week here in Athens we just stick to Ohio beer, because there's plenty of options from the myriad fantastic breweries in our great state to keep beer aficionados occupied for the week. Some of the best of those options are from Thirsty Dog.
Follow Ohio Brew Week on Facebook, Twitter and Instagram for updates on what top-tier offerings from Thirsty Dog will be at OBW, and where you can find them!