Posted on:

Tuesday, June 2, 2015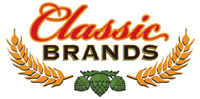 Classic Brands is a locally owned full service beer distributorship that employees 37 people from the area, according to Mark Bisang, General Manager of Classic Brands Athens. "We distribute products from Anheuser-Busch, Yuengling, Mikes Hard Lemonade, New Belgium, and Portsmouth Brewery (our only craft Beer that is brewed in Ohio)," Bisang stated
As a current and past sponsor of Ohio Brew Week, those at Classic Brands have seen first-hand the draw this event has on tourism in the Athens area. "Ohio Brew week is a nice fit for Athens being a college town it gets people into town when most of our students are gone, plus it showcases Athens and lets people from out of the area know what a great town Athens is and what it has to offer.
"We will be featuring Portsmouth Beers, Shock Top and Yuengling at the Brew BQ. We will also be featuring Portsmouth Brewing products at The Red Brick, Texas Road House and WG Grinders. We hope everyone enjoys their stay in Athens. Cheers!" Bisang added.
Classic Brands, which is located outside of Athens at 6441 Woodbrook Road, in Albany, can be reached at (740) 698-2176. Hours of operation are 8 a.m. to 5 p.m. Monday through Friday.