Posted on:

Thursday, May 7, 2015
This Ohio Brew Week, spend some time at Broneys Alumni Grill, located at the intersection of Carpenter and Court Streets in Athens, Ohio.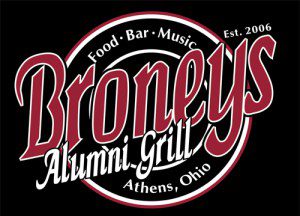 Imagine a relaxing afternoon, pint of craft beer in hand, comfortably seated on the large shaded patio, sun illuminating the beautiful brick streets. Across from you, the historic Athens armory and colorful beds of bright summer flowers. From your vantage point, you can see the lush hills of Southeast Ohio, and raise your glass to our great state.
Of course, OBW is also a big party, and no one does a party better than Broneys. Featuring a spacious interior with two bars, every night during Brew Week can turn into a raucous good time. Run into representatives from your favorite breweries and talk beer with fellow enthusiasts.
Broneys has been an OBW favorite ever since it was established in 2006, the year of the second ever Ohio Brew Week. Did we mention they've got a wide range of your favorite bar foods, from great wings to burgers, nachos and sandwiches? Broneys is a great place for big groups to find the space and hospitality they need during Brew Week.
Follow Ohio Brew Week on Facebook, Instagram and Twitter for updates on which beers you can find throughout the week at Broneys Alumni Grill!