Posted on:

Thursday, June 4, 2015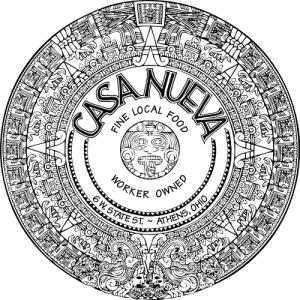 If you ask an Athenian about what makes Athens "Athens," nine times out of ten Casa Nueva would be part of their answer. That's because the worker-owned cooperative restaurant has embodied movements such as locally sourced food for decades before "locavore" was a national buzz-word.
Established in 1985, Casa Nueva nestled itself firmly in the hearts of Southeast Ohioans with its unique take on Mexican-inspired dishes and community-focused business practices. At Casa Nueva, the connection between local food providers, worker-shareholders and customers is put front-and-center, providing a fulfilling dining and drinking experience that is uniquely "Athens." You can taste the dedication. Throughout the year, observe the changing seasons in Casa Nueva's rotating seasonal menu. In Spring, find salsa verde or pesto made with ramps (a forageable, deliciously wild leek-esque plant native to Appalachia). In Winter, a selection of the most hearty and succulent root vegetables makes the perfect filling for a seasonal burrito or quesadilla. The menu changes frequently, so make sure to stop in during Brew Week and see the offerings.
You'll be sure to find a large selection of Ohio craft brew, and most likely some beer cocktails that will expand your horizons on what beer can be. It wouldn't be an Athens trip without a spending some time at Casa Nueva.